Driving to AGCC
There are two entrances to Angels Gate Park and Angels Gate Cultural Center. The driveway at 36th Street and Gaffey Street is normally locked after sunset. The main gate at 32nd Street will remain open and lighted until 10 p.m.
From the 405/110 intersection
Take the Harbor Freeway (110) towards San Pedro and exit to the left when the freeway ends at Gaffey. Drive south on Gaffey about 2 miles. At the 25th Street intersection, continue on Gaffey, but take care to bear slightly right and then left through the light to continue south.  Watch for the traffic light at 32nd Street.
At 32nd Street, turn right to enter Angels Gate Park. You are now on Barlow Saxton Road (short). Follow the road as it curves into Osgood Farley Road. At the top of the hill, turn left and follow the NCO Road as it curves around to the left. Turn right on Leary Miriam Road. The gallery and main office is in Building A (last building on the left).
To enter at 36th Street Gate
Pass 32nd Street. At 3601 Gaffey, turn right into Angels Gate Park. You are now on Leavenworth Drive. Turn right again immediately and drive up the hill on Leary Merriam Drive. The gallery and main office is in Building A (first building on the right).
Angels Gate Cultural Center offers on-site free parking. With ample spaces available, guests can park their vehicles with ease and enjoy exploring the various buildings that make up the AGCC campus.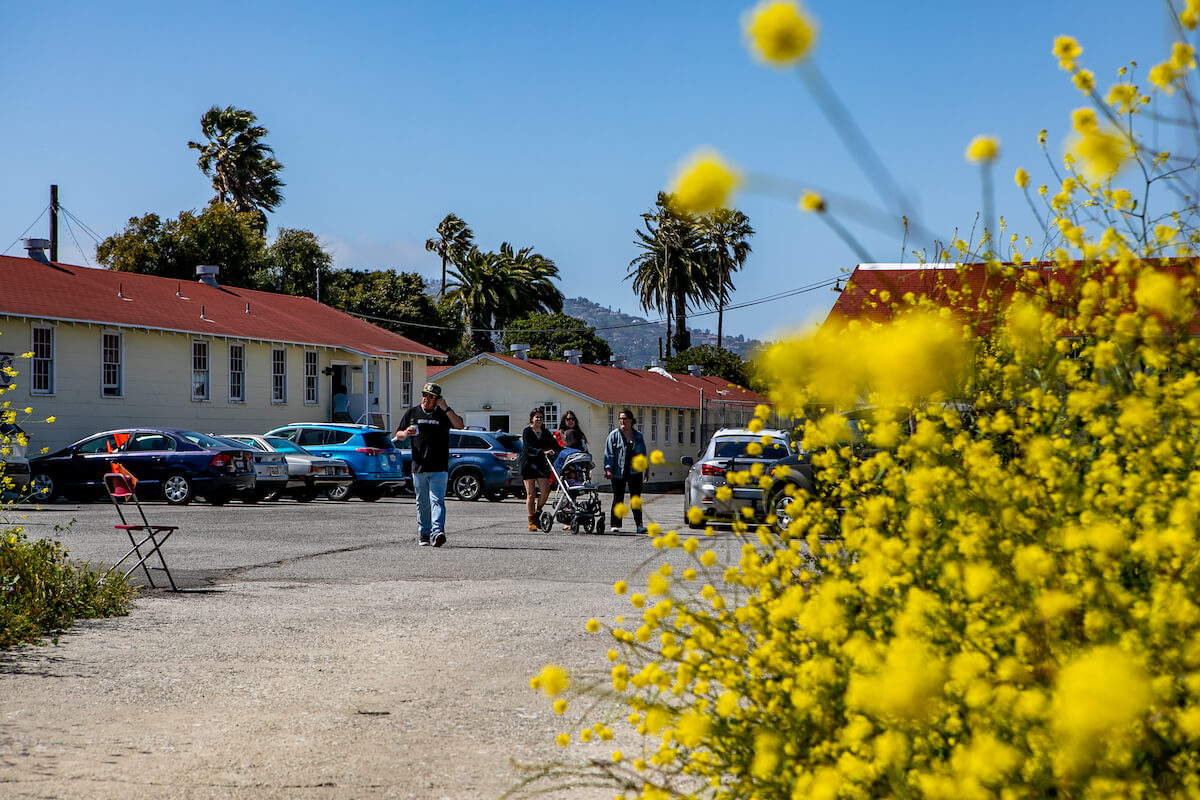 Public Transportation to AGCC
Metro J Line Silver/Silver Express

Commuter Express 448

Metro Local Line 232


Torrance Line 3, 4x, 7, 9, 13
Commuter Express 142
Metro Local Line 232

Torrance 3
All routes take Metro Local Line 246
Whichever route you take, your last leg is the Metro Local Line 246 to the South Pacific Ave. / West 36th SW corner.
Getting to AGCC from South Pacific Ave. / West 36th St.
The bus stop nearest to Angels Gate Cultural Center is the South Pacific Avenue / West 36th Street southwest corner, serviced by Metro Local Line 246.
The walk to AGCC from the bus stop is approximately 0.7 miles, with an average walk time of 17 minutes. Please note, it is an uphill incline, with an increase of 207 ft.