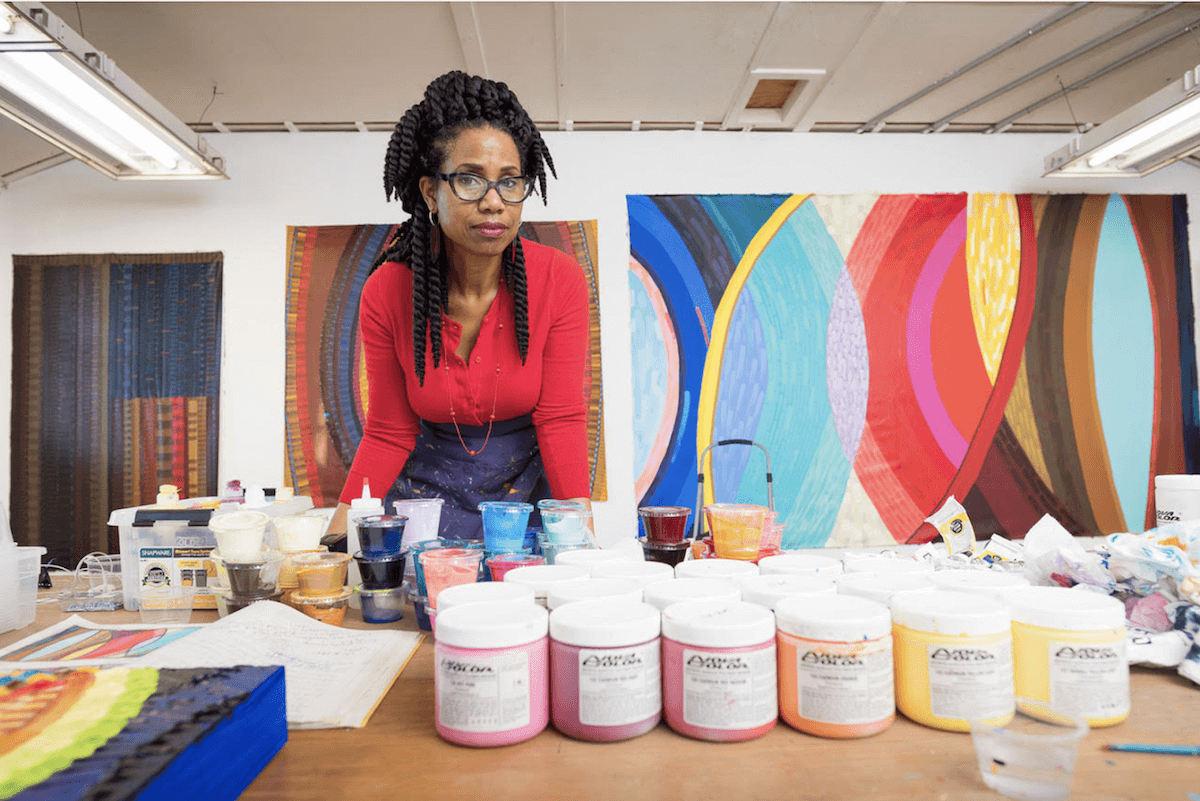 June Edmonds uses abstract painting to explore how color, repetition, movement, and balance can serve as conduits to spiritual contemplation and interpersonal connection to her African-American roots. Exploring the psychological construct of skin color or tone through pattern and abstract painting has proven to be a revealing gesture and these ideas are explored in her two ongoing series: the Energy Wheel Paintings inspired by her meditation practice and her Flag Paintings, which explore the alignment of multiple identities such as race, nationality, gender, or political leanings.
June Edmonds was born 1959 in Los Angeles, where she lives and works. Edmonds received her MFA from Tyler School of Art, Philadelphia, and a bachelor's degree from San Diego State University. She also attended Skowhegan School of Painting and Sculpture and is the recipient of the inaugural 2020 AWARE Prize, presented by the French non-profit Archive of Women Artists Research and Exhibitions; a 2018 City of Los Angeles Individual Artist Grant (COLA) and Exhibition at the Los Angeles Municipal Art Gallery; a California Arts Council Individual Artist Grant; Paducah Artist Residency in Kentucky; Helene Wurlitzer Foundation artist residency in Taos, NM; and Dorland Mountain Community artist residency in Temecula, CA.  Edmonds has exhibited at the California African American Museum, the Los Angeles Municipal Art Gallery, Luckman Fine Art Gallery at CalState Los Angeles, Watts Tower Art Center in Los Angeles, CA; Angels Gate Art Center in San Pedro, CA; and the Manhattan Beach Art Center in Manhattan Beach, CA. Edmonds has completed several works of public art with the city of Los Angeles and the Department of Cultural Affairs, including an installation at the MTA Pacific Station in Long Beach, CA. Her paintings are held in collections throughout the United States including the Crocker Art Museum, Sacramento, CA; California African American Museum, Los Angeles; Mead Art Museum, Amhurst College, Amhurst, MA; Davis Museum, Wellesley College, Wellesley, MA;, CA; David Owsley Museum of Art at Ball State University, Muncie, IN; The Pizzuti Collection, Columbus, OH; as well as Arthur Lewis Collection, Los Angeles, CA; Rodney M. Miller Collection, New York, NY; Jorge Pérez Collection, Miami, FL; Michael Rubel Collection, Los Angeles, CA: David Rogath Collection, Greenwich, CT; and Kelly Williams and Andrew Forsyth Collection, Palm Beach, FL among others.
Edmonds is represented by Luis De Jesus Los Angeles is a contemporary art gallery representing emerging and mid-career artists who are engaged in regional and global art discourse with a particular focus on intersectional diversity.
June Edmonds Image Gallery