Stuart Hamilton: Earthly Meditations
This exhibition showcases the works of late artist Stuart Hamilton, featuring over 50 pieces that reflect his meditative process and appreciation for the beauty of the natural world.Inspired by Kerry James Marshall's Black Birds series, this exhibition explores the celebration of Black innovators in music through the use of blue color and Audubon bird images as a metaphor for structural racism.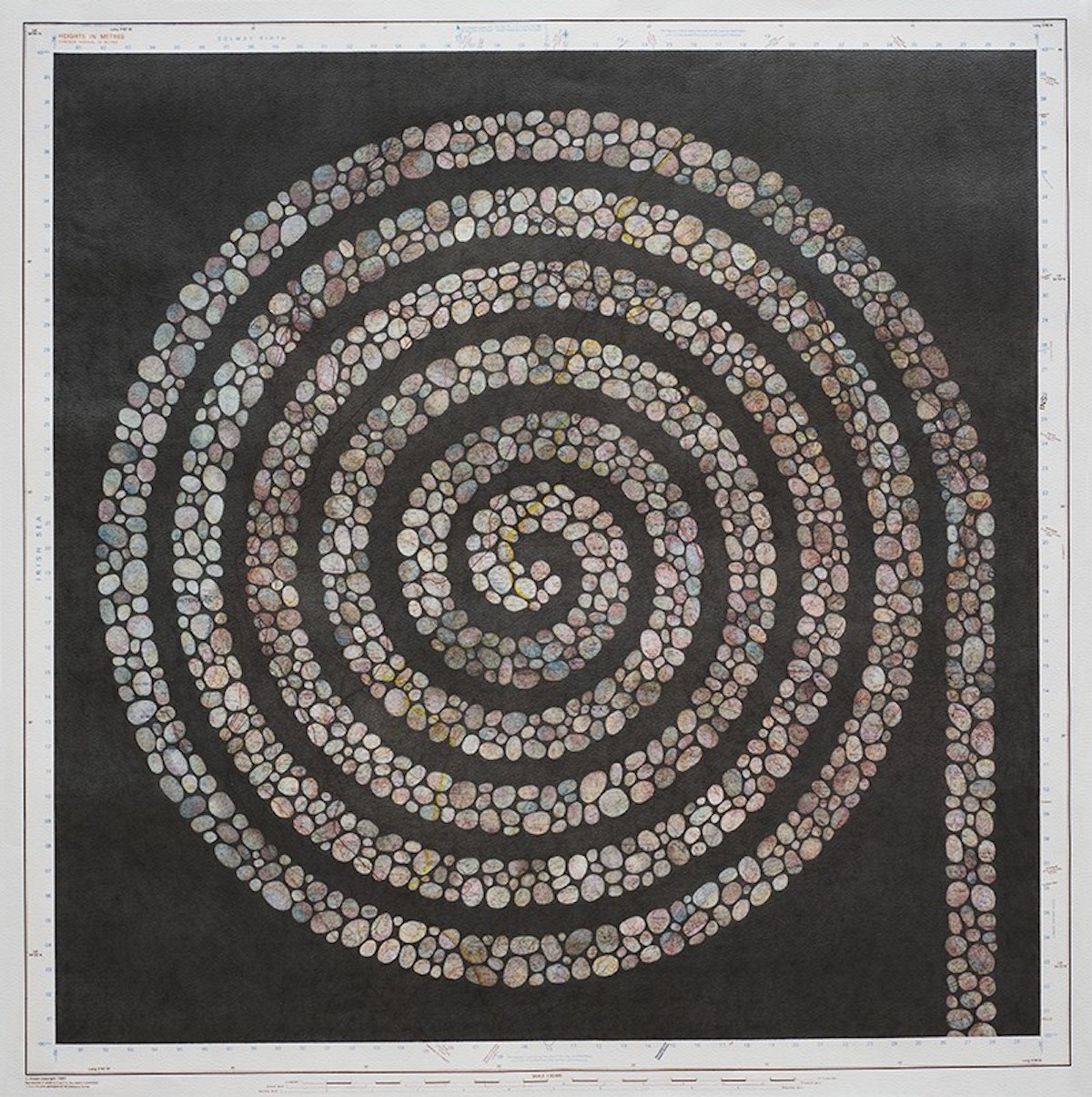 Stuart Hamilton, Large Spiral, 2016. Graphite & pencil on topographic map, 35 x 35
Stuart Hamilton: Earthly Meditations includes over 50 works made during the late artist's 10-year history at the Center. Many of the objects depicted in Stuart Hamilton's meticulously rendered drawings and paintings relate to specific times and places in the artist's history. Earthly details taken out of context–stones, sticks, and bone fragments–are arranged in geometric patterns reflecting a sense of order. His attentive mark-making on maps demonstrate a meditative process that carefully considers the natural world, with personal references to place and self-reflection.This juxtaposition–of the simple, small, and often disregarded–against the visual complexity of land formations in rhythmic topographic line, invites an alternative consideration and appreciation. As the artist has remarked on his practice,"I've chosen to focus on the beauty of the small and unspectacular from the natural world around me." In this sense, Hamilton's works are authentic representations of an organized universe
Stuart Hamilton was born in Manchester, England in 1950 and relocated to California in 1982, where he continued his art and teaching practice. Hamilton took graduate art courses from California State University, Long Beach and later received a Masters of Fine Art from Claremont Graduate University in 1984. His works are included in both US and UK collections, and have shown throughout California. Hamilton was an adjunct art professor at Coastline Community College, Westwood College, and Art Institute of California, among others. He passed at the age of 70 in February of 2021, and will be missed among the AGCC community.
Exhibition Image Gallery
Click the image for details on each piece.