A group exhibition showcasing advanced BFA students from California State University Long Beach, exploring the themes of work and play, identity, and social issues through sculpture and other mediums, with durational performances and artist talks as part of the program.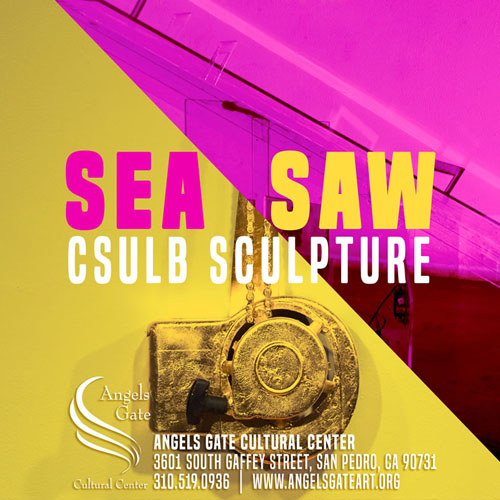 January 21 to February 27, 2017
Opening Reception: January 21, 2017 1:00pm to 4:00pm
Angels Gate Cultural Center is pleased to present Sea/Saw; a group exhibitionsengaging communities of the Los Angeles Harbor Region. Sea/Saw is the first exhibition in a series of shows running through Spring 2017 that will showcase undergraduate art from local colleges and universities.
In the downstairs galleries and Main Gallery I Sea/Saw will showcase advanced BFA students from California State University Long Beach working in sculpture, broadly defined. The title playfully evokes the image of studying sculpture in a Port City. The work chosen is thematically linked through explorations of how identity informs ideas of work and play. The artists examine gender, race, sexuality and class through topics of ranging from landscaping, Internet culture, and an actual see/saw. The artists include Caryn Aasness, Kacilica Chin, Christine Hudson, Dulce Soledad Ibarra, Juliet Johnson, Vanessa Olivarez, Diego Palacios, Josh Thomen and Josh Vasquez. Exhibition runs through February 27th.
On February 18th from 1-4 pm, CSULB students will be presenting durational performances and from 2 – 3pm CSULB lecturer Kellie Lanham will moderate a program of students as they speak about the images and texts that have influenced and how they apply these concepts in their own art. As Lanham writes, "this program will take a look at the unique space student artists find themselves in – as receivers of knowledge and creators of new ideas."
On February 25 from 1-4 pm, CSULB students Caryn Aasness and Christine Hudson will present a durational performance in the Community Room.
Angels Gate Cultural Center is open to the public seven days a week and admission is always free.
Exhibition Image Gallery
Click the image for details on each piece.