This exhibition showcases powerful artists on the brink of their careers, exploring personal motivations and reflecting their communities.
Works by
Angel King and Everett Babcock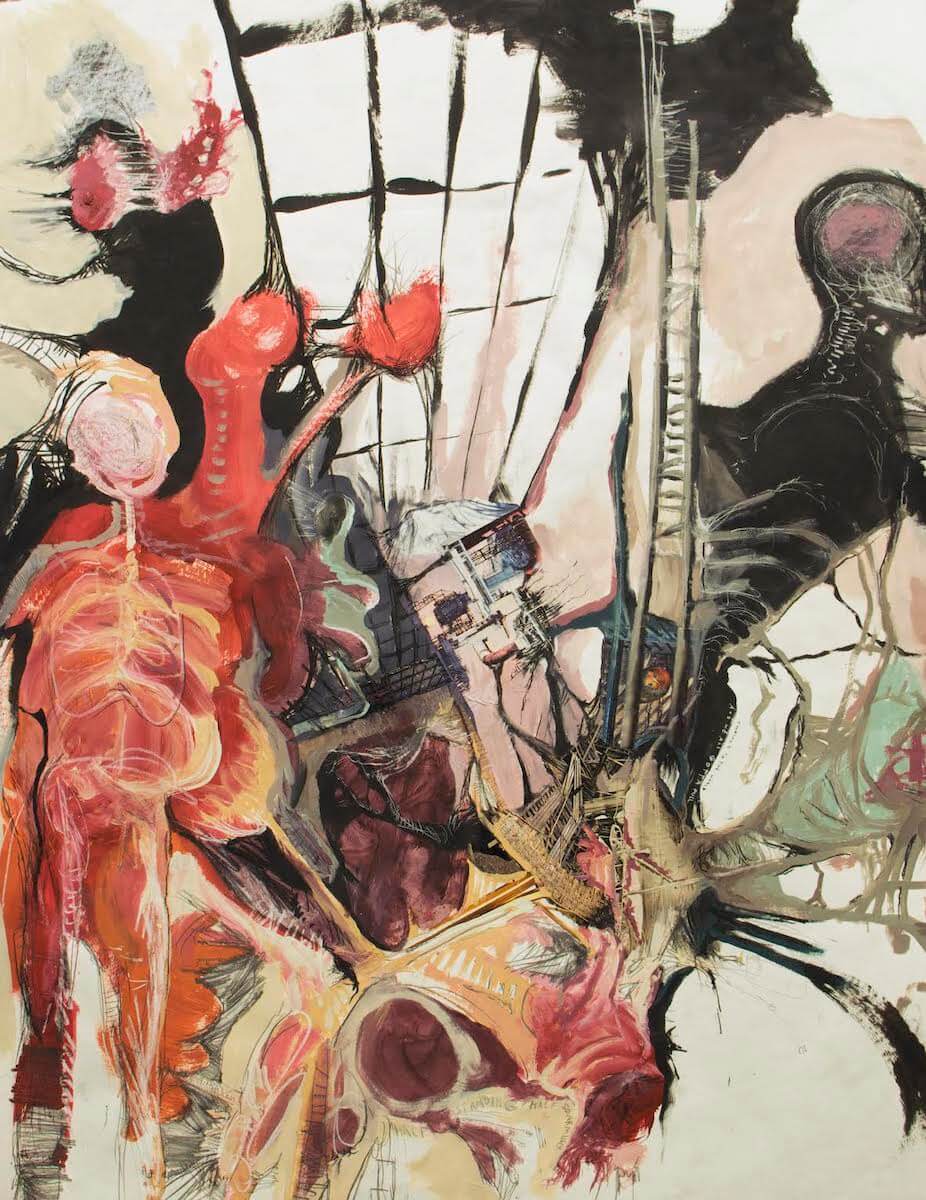 Everett Babcock, Meat Tangled Cage and a Little Bird. Image courtesy of the artist.
Angels Gate Cultural Center will bring together two curators for the third quarter of 2019's Curatorial Takeover with an opening reception on July 13th. Marcia Moore's On the Brink will be featured in the downstairs gallery in Building A, while Jared Baxter's Todo en ti fue naufragio will be featured upstairs.
On the Brink, Marcia Moore
BRINK:
1. The edge or margin of a steep place or land bordering water.
2. Any extreme edge.
3. A crucial or critical point especially of a situation or state beyond which success or
catastrophe occurs.
Angels Gate Cultural Center helped to inspire Moore's exhibition, as the center sits "on the brink" both literally and figuratively, perched on a hilltop overlooking the Pacific, and breaking new ground in the arts. On the Brink showcases the work of two artists, Angel King and Everett Babcock, both of whom explore the edges of tension, trauma, beauty and social consciousness. "It has been thrilling to bring together this jarring yet deeply moving collection of work from these two emerging artists," said Moore.
Primarily a sculptor, King works with found materials that some might view as trash to construct work that is deeply personal and considered. Mining material from her life, she creates pieces that at first remind us of the possibilities of childhood, bedroom furniture and stuffed animals, then forces the viewer to come to grips with a darker confrontation of the reality of the work, and of her world. A fourth-year undergraduate student, King received a UCLA Department of Art and School of the Arts and Architecture scholarship award.
Babcock, a multi media art maker, student of art at UCLA and scholarship recipient, creates drawings, photographs, and small sculpture as well as video pieces that are visually compelling and refined in their construction. Many of the drawings include collaged materials and text work requiring the viewer to carefully ingest the images.
OPENING RECEPTION SATURDAY, JULY 13TH, 2019, 12- 4 pm
Exhibition Image Gallery
Click the image for details on each piece.