An exhibition that combines historical material, community submissions, and artwork by various artists to explore the seaside community of San Pedro and its harbor, examining its industrial landscape and its desirability as a place to live.
Works by
Students at the Boys & Girls Club of the Los Angeles Harbor, Angela Romero, Arlo Tinsman-Kongshaug, Beth Elliott, Calimucho, Daniel Porras, Dusty Gatica, Eddie Meeks, Evelyn McDonnell, Francisquito Gerardo González, Hyung Mo Lee, Jennifer Marquez, Jerry Burton, June Edmonds, Lowell Nickel, Machine Studio, Phoebe Barnum, Raymundo Maldonado, Stella Kalinia, Wally, and Yoon Jin Kim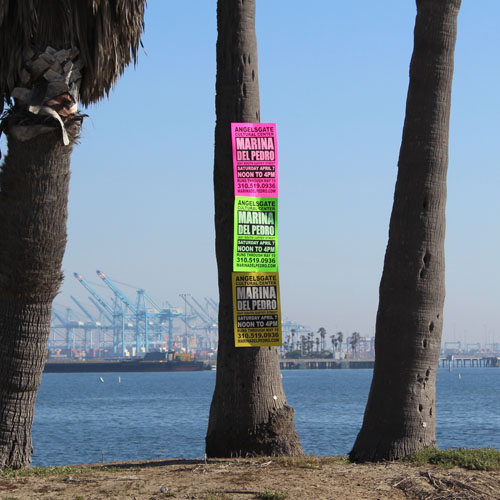 [Marina del Pedro – a local word play on Marina del Rey]
marina (n.) : a dock or basin providing secure moorings for pleasure boats and often offering supply, repair, and other facilities (Merriam-Webster)
A port and its surrounding community are often perceived as two entities. The project Marina del Pedro synthesizes and explores them as one in an interpretive assemblage looking at the seaside community of San Pedro and its harbor, the Port of Los Angeles.
During the late 1800s Santa Monica Bay, which includes Marina del Rey, lost the commercial harbor designation to San Pedro. Marina del Rey has since become the largest man-made marina in the United States – while San Pedro evolved into the largest container port on the west coast. The project Marina del Pedro combines pleasure/human and commercial aspects in its name and can be an actual place as well as a state of mind: a complex industrial landscape and a desirable place to live. The exhibition, like Marina del Pedro itself, moves freely between the urban and natural landscape. The foundation of the exhibition is made up of images and ephemera from the San Pedro Bay Historical Society archives. An approximately 19 by 8 ft. interactive map comprised of stitched aerial photographs provides a tangible visual that allows the viewer to easily navigate the terrain. The map also explores geographical features, makes references to relevant events in the port community and draws loose connections to the surrounding artworks, artifacts and ephemera. A large-scale projection explores the heart of the port from the point of view of a kayak (pleasure-craft). Among the artwork included, Marina del Pedro features video, photographs, paintings, assemblages and writing.
This exhibit is generously supported by the Port of Los Angeles through the Port Community Investment Grant.
The exhibition is curated by artist Tim Maxeiner. He thinks of Marina del Pedro as a community archive that includes various forms of storytelling. Maxeiner first got interested in archiving when he moved from Germany to San Pedro in 2010, and discovered the archives of the San Pedro Bay Historical Society. Tim Maxeiner taught a photography class and collaborated with artist Daniel Porras on a drawing and painting class at the Boys & Girls Club of the Los Angeles Harbor, where aspects of the idea for this exhibition originated.
Explore Marina del Pedro at Angels Gate Cultural Center at Open Studios day starting on April 7th, 2018 at 12 to 4pm.
Exhibition Image Gallery
Click the image for details on each piece.