Landslide: slips in time, place and identity
A group exhibition exploring the relationship between place and identity through solo and two-person exhibitions by Michael Davis, Alexandra Pacheco Garcia, Vanessa Madrid, and Suzanne Wright, featuring site-specific installations, paintings, films, and sculptural works.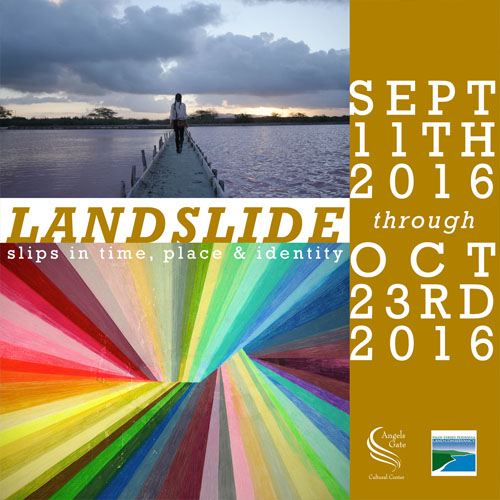 Landslide: slips in time, place and identity
September 11 – October 23, 2016
Opening reception: September 11 from 1pm -5pm
Angels Gate Cultural Center is pleased to present Landslide: slips in time, place and identity; a grouping of solo and two-person exhibitions exploring how place can function as a porthole to the past and imagined future. The title references the 2011 landslide near White Point Nature preserve, where site-specific works will be installed the weekend of the exhibition's opening. Both a historic phenomenon and constant possibility in coastal San Pedro and Palos Verdes, Landslide also references the 1975 Fleetwood Mac song, in which Stevie Nicks sings "Can I sail through the changing ocean tides? / Can I handle the seasons of my life?" Together these references speak to the tension between the individual/collective and interior/exterior landscapes the artists in this exhibition – Michael Davis, Alexandra Pacheco Garcia, Vanessa Madrid and Suzanne Wright – address in their distinct styles.
In Main Gallery I, Suzanne Wright will debut Rainbow Warriors, the much-anticipated follow up to her 2014 exhibition The Rainbow Control Room. In this exhibition, the artist uses her porthole motif to turn our attention to the surrounding landscape. The unique history of the bunker-turned-gallery becomes part of her new painting work, transforming the space into a porthole to her utopic future imaginings.
In Main Gallery II, Alexandra Pacheco Garcia's solo exhibition From the Archives of Elena C. will center around a new film centered around a single protagonist, Elena C, a young Puerto Rican activist and psychic medium. It is set in the landscape of 1970's Puerto Rico during an era of social unrest, as a renewed sense of urgency in the struggle for Independence.
Pacheco Garcia and Wright will have work in direct conversation with each other in "Crystal Visions," a two-person installation in the Project Room. Wright will be showing sculptural mandalas inspired by geology. Pacheco Garcia will show additional images from her on-going investigation into the fictional character of Elena C, including her photographs of the "Gold Leaf Girl," a woman whose skin produced gold leaf from an "Unsolved Mysteries" episode seen by the artists as a child.
In collaboration with the Palos Verdes Land Conservancy, the Community Gallery will feature work by Michael Davis and Vanessa Madrid corresponding to their ephemeral site-specific installations at the White Point Nature Preserve on view September 10th and 11th. The artists responded to call in which the preserve was described as "a site of contradiction: a nature preserve situated amidst the remains of a nuclear-missile installation." Davis will convert an old guard shack into a pinhole camera for the weekend; the photographs he takes will be on display throughout the month. Madrid is creating miniature paintings of historical and contemporary displaced people in San Pedro, which she will reinsert into the landscape. Her installation features archival research and fragmented narrative corresponding to her portraits.
The opening reception will be September 11th from 1pm -5pm. There will be a night of programming in the Artillery Theater from 6-9 on October 1st to correspond with the exhibition.
Angels Gate Cultural Center is open to the public seven days a week from 10 am to 5 pm and admission is always free.
Exhibition Image Gallery
Click the image for details on each piece.