Gettin' off the Ground: Contemporary Stories from an American Community (5)
This exhibition showcases artwork that utilizes storytelling techniques to foster dialogue within the South Bay/Harbor community, exploring themes relevant to the community's history and encouraging self-reflection and communication.
Works by
Kiel Johnson, Miwa Matreyek, Claudia Parducci, Phillip Schladweiler, Justin Wilson.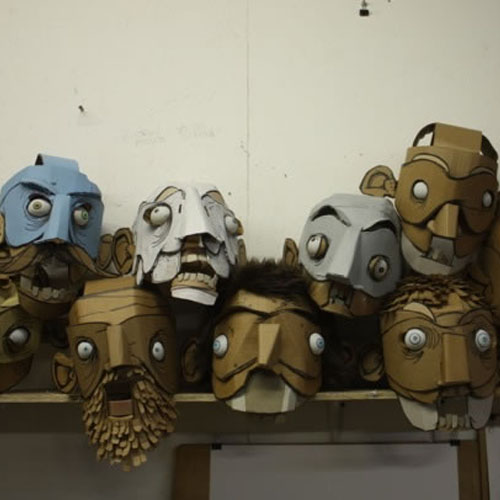 Kiel Johnson, Unruly Crew, 2014. Cardboard.
Over the next two years artwork will be selected on an ongoing basis that employ storytelling techniques to encourage dialogue on issues relevant to the South Bay/Harbor community and/or shared history. The artworks encourage us to think about our lives and how we communicate our story with each other.
 Curator Statement:
In her book, Their Eyes Were Watching God, Zora Neale Hurston writes: "There is a basin in the mind where words float around on thought and thought on sound and sight. Then there is a depth of thought untouched by words, and deeper still a gulf of formless feelings untouched by thought." (Hurston, p.23).  It is in the "gulf of formless feelings", where layers of consciousness move from fantastical to real and from sensory to literary, that communities create fables, parables, myths and folktales to connect with each other and understand the super/natural elements that exist in our world. These stories, told and retold, shape our perceptions regarding ourselves in relationship to identity, culture, place and fellowship. Collectively, these perceptions shape how we exchange ideas and engage with each other, in addition to defining our communities' beliefs and moral systems. 
As dynamic social media platforms continue to emerge, our ability to share stories has also changed. Suddenly, notions of community and "coming together" have shifted as people turn to the nebulous territory of the Internet to exchange personal information with friends and strangers (i.e. Facebook, Vine, and YouTube). On these sites we tell stories that often blend reality and fiction. We learn intimate details about strangers and loved ones that occasionally challenge us and sometimes reinforce unconscious bias we already hold. 
 For the next few years, Angels Gate Cultural Center's (AGCC) gallery invites the community to share their stories with us. We are interested in how these stories shape the collective consciousness in San Pedro and the South Bay area. AGCC will partner with local organizations to produce short-term artist residencies that capture the stories of different people in the community. The residencies will culminate in exhibitions in the Main Gallery. The Main Gallery serves as an anchor for the supporting galleries that will delve into issues such as loss, migration, love, immigration, location, and port culture through participatory art making stations; curated roundtable style conversations featuring artwork by emerging and mid career artists primarily from the Los Angeles area; solicited community-based projects; and a film reel that features interviews with people in the community sharing their stories. Throughout the exhibitions visitors are asked to consider their lives, the lives of younger and older generations, and how a healthy community's well-being is sustained through the quality of relationships individuals form in their community (Block, p.5). 
Angels Gate Cultural Center hopes that by participating in the conversation, people in the community will create artwork in the gallery, submit artwork to be displayed in the galleries and return again to discover something new. As the community ʻgets off the ground' and visits the galleries we hope they experience a slice of Americana that is unique within our nation and particular to Los Angeles.
Bibliography 
Hurston, Zora Neale, and Henry Louis Gates. Jonah's Gourd Vine ; Mules and Men ; Their Eyes Were Watching God. New York: Quality Paperback Books, 1990. Print. 
Block, Peter. Community: The Structure of Belonging. San Francisco: Berrett-Koehler Publ., 2008-2009. Print.
Kiel Johnson
Unruly Crew
Being able to find and trust in our true self can be a life long quest. It requires taking off protective masks that shield us. In removing the mask we are suddenly vulnerable to being found out – to letting go of emotions and desires that we cling to.
Each mask in this series by Kiel Johnson embodies a different personality identified through facial features. Designed to be worn, the masks collectively create a chorus of voices that demand our attention. While these masks are light hearted and playful, the power of mask making as a way to process deep emotions has been utilized by the Department of Defense at Walter Reed National Military Medical Center (WRMC) in Washington D.C. since 2011.
In collaboration with the National Endowment for the Arts, WRMC has used creative arts therapy and arts engagement programs to improve the health and well being of soldiers returning from battle. One such program has involved soldiers using masks as a metaphor to tell their stories. For veterans suffering from post traumatic stress disorder (PTSD) using masks has become a transformative experience of releasing.
Look at the masks carefully. Is there one that you might select to best represent who you are right now? Is there one that represents who you used to be? Is there a difference between the two masks?
If none of the masks represents you how might you describe what your mask would look like?

BIOGRAPHY
Kiel Johnson is a Los Angeles based artist, currently running around the west coast, getting involved in any creative project that will have him. With an emphasis on drawings and sculpture his works always say, handmade, hard work and having fun. Kiel brings the inanimate to life, giving us a world not unlike ours but entirely his.
Collaboration has become a big part of his practice as well. Through epic workshops, artist talks & collaborative video projects, Kiel uses simple materials and hand made ingenuity to bring the infectious disease of creativity to anyone willing to engage.
His work has been exhibited widely throughout galleries and museums around the country, with recent solo shows at Mark Moore Gallery, Los Angeles, CA; Davidson Contemporary, New York, NY; The Taubman Museum, Ronaoke, VA. Johnson is also the recipient of numerous awards including The Pollock-Krazner Grant in 2008; Durfee Foundation ARC Grant, 2007; and the Outstanding Creative Achievement Award, 2003. Kiel has also been found speaking about his work at TED events around the world with recent talks at TEDxAlAin, United Arab Emirates and TEDx Christchurch, New Zealand.
Miwa Matreyek
Lumerence
For over a millennium we have continued to look to the cosmos for a deeper understanding of space, time and who we are as humans. Our connection to the heavens and the possibilities that it holds has inspired art, dance, writing and governance in communities around the world. By looking up and gazing at the sky we are challenged to dream and hope for something better and bigger than ourselves, perhaps even in our human connections with each other.
This shortfilm by Miwa Matreyek was originally inspired by a visit to the Mt. Wilson Observatory. Combining animated fantastical landscapes with body parts, thepiece explores our human desire and ultimately the whole earth's drive to find connection with the universe.
The work is rich with symbolism. Symbols are coded within our own cultural and/or religious beliefs. In what way do you connect (or disconnect) with the imagery used in the film?
BIOGRAPHY
Miwa Matreyek is an internationally recognized animator, designer, and multimedia artist based in Los Angeles. She creates animated short films as well as live works that integrate animation, performance, and video installation. Arriving to animation from a background in collage, her work explores how animation transforms when it is combined with body, both physically in her performance pieces, as well as a composited video element in her short films.
In her projection based performances, animation takes on a more physical and present quality, whilebody and space take on a more fantastical quality, creating an experience that is both cinematic and theatrical. She is interested in the slippery meetingpoint of cinema and theater/performance, the moments of convergence where fantastical illusions are created, and the moments of divergence where the two struggles against each other.
Her work has been shown internationally at animation/film festivals, theater festivals, performance festivals, as well as art galleries, science museums, tech conferences, universities, and more.
Some past presentation include TEDGlobal (UK), Sundance Film Festival, Wexner Center for the Arts, Anima Mundi Animation Festival (Brazil), Time Based Arts Festival, REDCAT, ISEA, Theatre de la Cité (France), the Exploratorium, EXIT festival, Fusebox Festival, S8 (Spain), Animasivo (Mexico), Flat pack Film Festival (UK), Future Everything (UK), Yerba Buena Center for the Arts, City of Women (Slovenia), Santiago a Mil (Chile), Houston Cinematic Arts festival, and more.
Matreyek received her MFA (2007) in Experimental Animation and Integrated Media at the California Institute of the Arts. She is one of the founding-member and core-collaborator of Cloud Eye Control.
Claudia Parducci
Cry Last
Created in 1832 by Samuel Morse, Morse code is used to transmit text through a series of tones, lights or clicks using dots or dashes to indicate a specific letter. It was first successfully used in 1844 to transmit a message, via the electric telegraph, from Baltimore to Washington D.C. Morse code was an important way for people, across vast distances, to communicate and was used until 1999 as an international standard for maritime distress.
For soldiers of the 20th century, Morse code served as an important way to communicate. For artist Claudia Parducci, Morse code treads a line between symbol and abstraction. The dots and dashes of Morse, recognizable as pattern, even as language, are accessible to few besides WWII veterans and grown up boy scouts, yet they carry the urgency of a messages important enough to need decoding.
The piece titled "Cry Last" is based on the last Morse code signal sent out by the French Navy in 1997 and signified the "end" of communicating in that form. The message sent read "Calling all. This is our last cry before our eternal silence." How might you respond if you received that message?
What message might your last communication as a text say if a new technology emerged that rendered the use of text messaging obsolete? Who would you send the text to?
BIOGRAPHY
Claudia Parducci divides her time between Los Angeles and a homesteader's cabin in the Mojave Desert. Parducci received her MFA from CalArts in 2006, and exhibits nationally and internationally, most recently at Nye + Brown, Garboushian Gallery, Torrance Art Museum in Los Angeles, and Metro Pictures in NY as well as in Japan, at Galleries Eitoeiko and Lara Tokyo.
Phillip Schladweiler
Shrapnel
As the title of this work underscores, these are images of shrapnel. Shrapnel are metal fragments that are thrown out when a bomb explodes. The damage that is wrought by shrapnel impacts both the soldiers and the civilians caught in its crosshairs the same way. Since the Global War on Terror commenced in October 2001 nearly a million veterans have registered a claim with the Veteran Affairs department with many stemming from shrapnel related injuries.
For veteran Phillip Schladweiler, wounded by shrapnel in Iraq, his journey through recovery involved art making. Starting with shrapnel from his own body, these photos are part of a larger project that the artist is undertaking to engage both the wounded soldier community and reconnect with the attack that changed his life. The damage, pain and scars that the shrapnel caused belies the beauty of the photos as small changes in color and texture carry your eye around the piece. Schladweiler writes "I feel the need to question why these are beautiful to me when they caused so much destruction and I begin to think the machine, the metal, which did this to me as an equal. Alone they stand as a reminder of my past and the machine like qualities I possessed and still embrace into my future."
These images elicit a strong emotional response because they are connected to a person not an idea. They are real. In what way might you channel your response to help veterans in your community?
BIOGRAPHY
Phillip Schladweiler is the creator of The Shrapnel Project, a fine art photographyseries examining the shrapnel that changed his and other's lives. In 2006 he was wounded in Ramadi, Iraq while serving with Bravo Company, 1st Battalion, 506th Infantry. After being medically discharged for wounds received in combat he enrolled at the University of Wisconsin-Eau Claire where in the summer of 2012 he began photographing the first images for the project. He hopes The Shrapnel Project will help open the doors to communication between civilians and Veterans concerning the impact of war and PTSD. His ultimate goal is to become a licensed art therapist and help implant this type of therapy into the VA system as he believes it will truly help Veterans express themselves and their experiences without saying a single word. He is still looking for Veterans whom are willing to participate by letting him photograph their shrapnel and/or tell their story and experience.
Justin Wilson
Front Towards Enemy
This installation is part of the series Cover of Darkness which explores Justin Wilson's military experience as a Special Forces soldier. All his missions were at night and required the use of night vision goggles. The goggles illuminate the darkness into a monochromatic green world and make it possible to see what is hidden. Bright lights appear in vivid chartreuse and shadows are black or deep hunter green. The darkness, a place of uncertainty, is suddenly illuminated but not comforting.
In order to protect the soldiers he worked with, Wilson uses declassified imagery found online. His equipment has been modified to suit his body. Wilson juxtaposes his paintings depicting a nighttime scene with soldiers depicted in action with his own equipment as a Navy Seal. Within the context of civilian life the nighttime imparts a similiar uncertainty of what might happen and a feeling of foreboding. This time may be filled with shadows and uncertainty but for veterans like Wilson it is also a place of work.
Wilson spent twelve years in the service. He is one of many men and women who were deployed and returned. If you were to imagine that you were in the paintings what conversation might you have with the soldiers in the images?

BIOGRAPHY
Justin Wilson was born in Long Beach, CA, in 1980. Justin served 12 years in the U.S. Navy from 1998-2010. After enlisting 1998 and completing Electronics Technician "A" school he volunteered for Special Warfare Combatant-Craft crewman (SWCC) training. He graduated with SWCC class 30 and served at Special Boat Team 12 and Naval Special Warfare Development Group, formerly known as SEAL Team Six. Justin was one of the first SWCC operators to be hand picked for the selection and training process referred to as "Green Team." Justin completed Green Team in 2004 and has participated in numerous deployments in support of the Global War on Terror. After leaving the Navy, Justin decided to pursue his passion for the Arts and is currently a BFA candidate at Otis College of Art and Design (2015) majoring in painting and minoring in creative writing.
Exhibitions are supported in part by Sencee Tagami, Exceptional Children's Foundation, Department of Cultural Affairs – City of Los Angeles, Boeing Employees Community Fund, Marymount California University, Laser Cutting Shop, Aldo Puicon, Adam Gaxiola, The Getty Foundation, The Ahmanson Foundation, The James Irvine Foundation, Pile Drivers, Bridge, Dock and Wharf Builders – Local Union 2375, Harbor Rose Lodge, Art Center College of Design – Photography & Imaging Department, Sony Pictures Entertainment, Fed Ex office – Central Ave. Branch, Southwest Regional Council of Carpenters, John S. Meek Company, Historical Archive Preservation Committee, Local Union 2375, Don Wright, Phoebe Barnum, Steve Robinson, Johnny Reb's, Buono's Pizzeria.