40th Anniversary – Gathering of Angels
An exhibition of more than 50 former and current Studio Artists on the occasion of our 40th anniversary. The exhibition features a diverse group of alumni representing every year of Angels Gate Cultural Center's history. Now working around the globe, they are united here today through their bold artistic visions.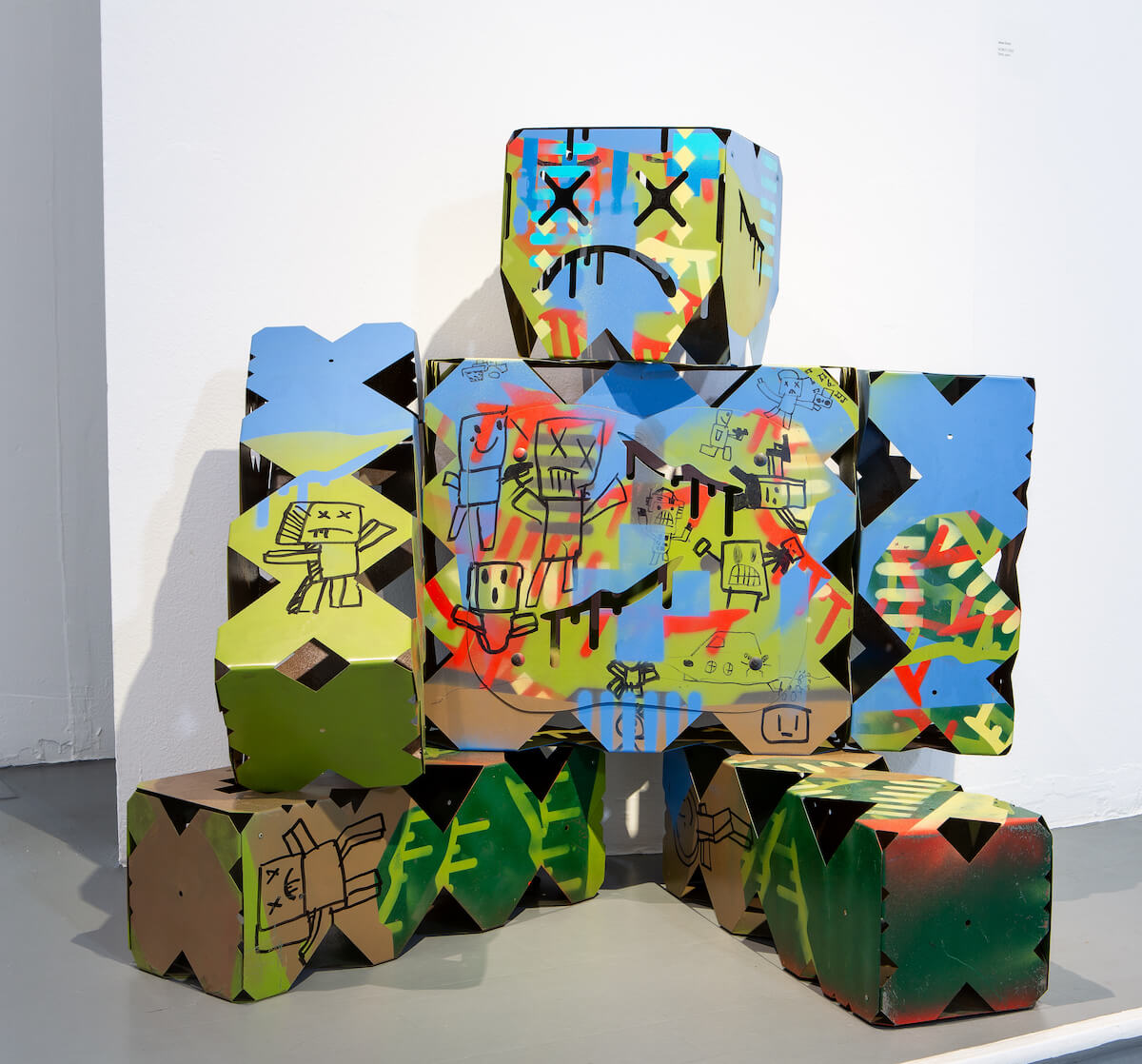 Jesse Small, Hobot, 2022, Photo by Justin Galligher.
Angels Gate Cultural Center was established in 1982 by San Pedro artists who transformed the former WWII-era army barracks into artist studios. Today, AGCC hosts 50 artist studios in addition to numerous community programs and cultural events that serve the greater Harbor and Los Angeles region. The 40th  Anniversary Gathering of Angels exhibition recognizes the invaluable contributions artists at the Center have made to the San Pedro community.
The exhibition includes works by Phoebe Barnum, Cindy Bernard, Delora Bertsch, Paul Bouchard, Robert Costanza, Slobodan Dimitrov, Leah Shane Dixon, Lynn Doran, Cor Drost, June Edmonds, Beth Elliott, Anna Erneholm, Ayin Es, Candice Gawne, Monica Gazzo, Harold Greene, Geoff Guerrero, Betsy Lohrer Hall, Stuart Hamilton, Barbara Hashimoto, Susan Erikson Hawkins, Sharon Hutchison, Lieve Jerger, Dennis Keeley, Linda King, Sam Kirson, Rene LaRue, Shari Lee, Andrea Lien, Vanessa Madrid, Barbara Carnahan Marriott, Tim Maxeiner, Siobhan McClure, W.S. Milner, Kimiko Miyoshi, Lynne Mori, Marcel Nagy, Lowell Nickel, Muriel Olguin, Da Aie Park, Elyse Pignolet, Susan Rawcliffe, Peggy Reavey, Lucinda Rudolph, Michelle Seo, Yayoi Ailene Shibata, Fran Siegel, Jesse Small, Angelica Sotiriou, Richard Stephens, Maggie Tennesen, Marie Thibeault, William Vaughan, Nancy Voegeli-Curran, Gordon Wagner, Ann Weber, Joyce Weiss, and Donna Yarrell.
This monumental exhibition features over sixty current and alumni artists of the Angels Gate Studio Artist program. The opening will be held in conjunction with the biennial fundraiser, Awake In Color, on June 25th, 2022. From 6pm–9pm on Saturday, attendees will enjoy a live art auction, entertainment, food, drink, and color-themed activities in this"party by artists, for artists and our friends."
Awake In Color honors AGCC's 40 years as an established nonprofit with a color-filled celebration recognizing the Center's long running history of art, arts education, advocacy, cultural events, and AGCC studio artist legacies. Attendees can bid on donated artworks by celebrated artists including June Edmonds,Dennis Keeley, Marie Thibeault, andAnn Weber among others. The night will be emceed by Long Beach personality, Jewels, with entertainment by Studio Artist Adam Gaxiola.  Attendees will enjoy Classic Cars with San Pedro's Legends Car Club, color numerology, art installations, photobooth, and over 100 artworks by local San Pedro artists.
The 40th Gathering of Angels exhibition is supported by the Coastal San Pedro Neighborhood Council, with additional support for the AGCC exhibitions program provided by The Ahmanson Foundation, the Department of Cultural Affairs City of Los Angeles, the Los Angeles County Arts Commission, and the Parsons Foundation.
Exhibition Image Gallery
Click the image for details on each piece.