Coming Into Being: Gathering the Elder in Me
An installation by Laurie Steelink that combines photographs, paintings, drawings, and video to explore the artist's Native American ancestry and personal identity.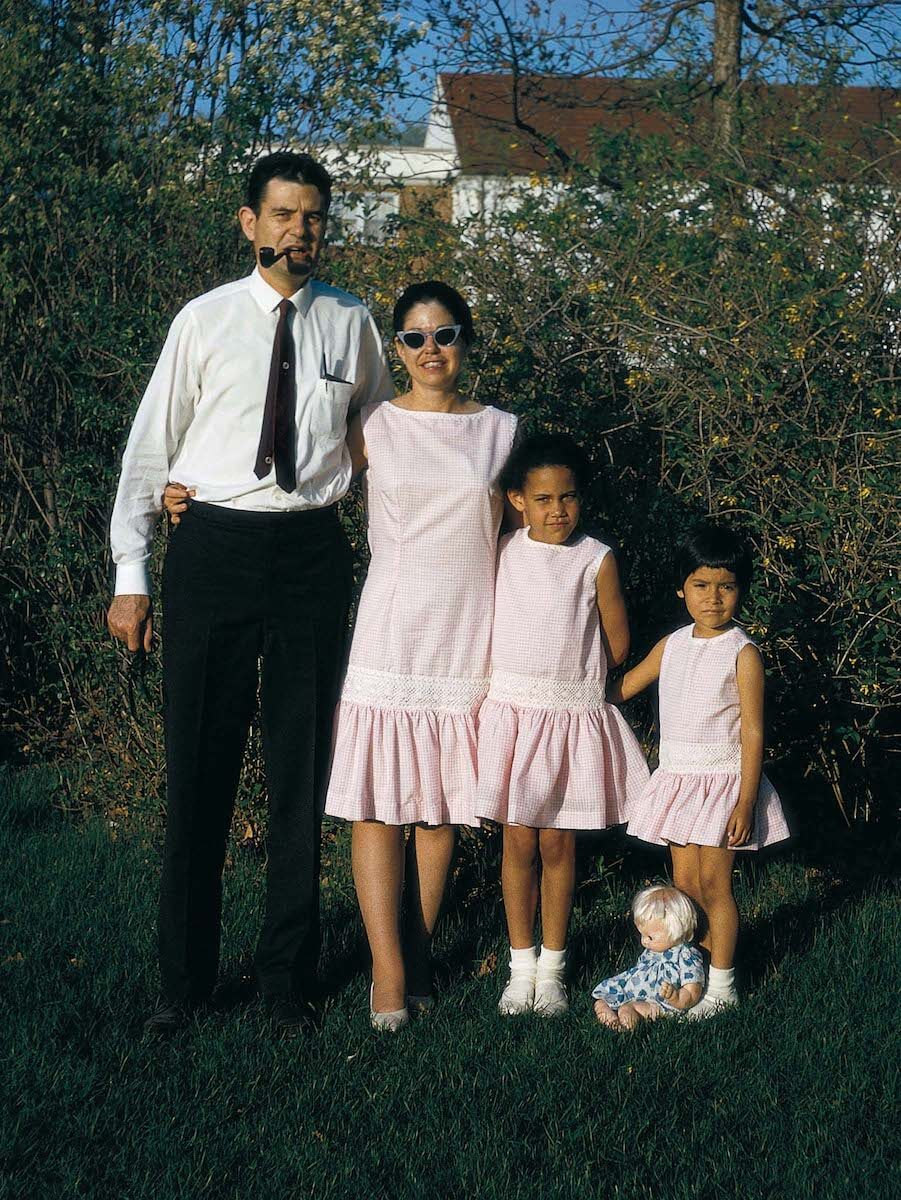 Steelink Family (L to R: Cornelius, Jean, Kaye, Laurie), Madison, Wisconsin, ca. 1963. Photographer Unknown. Photo courtesy of the artist.
Coming Into Being: Gathering the Elder in Me is an installation by multimedia artist and curator Laurie Steelink. Drawing on her Native American ancestry, the show combines photographs, paintings, drawings, and video, with ephemera, artworks and photographs from her family's collection. Steelink regards the project as a kind of anthropological inquiry into herself and the past bodies of work she's produced; in re-contextualizing these works, the old and the new take on different meanings.
A member of Arizona's Akimel O'otham Tribe, Steelink was born in 1960 and given up for adoption by her birth mother. At six-months old she became the child of Jean and Cornelius Steelink, Euro-Americans, and staunch liberals who came from a long line of revolutionaries, Wobblies, Civil Rights activists, scientists, and artists. Steelink was aware of her Native American ancestry, and coming of age in a mixed-race family, in an academic, middle class environment, left her grappling with identity issues that she's finally beginning to resolve. At the age of forty, Steelink located and met her birth mother and Akimel O'otham relatives, and has become an active member of Southern California's Indigenous community.
Steelink's exhibition will coincide with the 14th Many Winters Gathering of Elders, an Indigenous cultural event that will take place at Angels Gate from October 11th through the 14th, and will incorporate a second curatorial project she organized, In a Good Way: What Does Your Land Mean to You? which surveys previous Gatherings between 1992 and 2017. Bringing together photographs, printed matter, and a new series of portraits of Southern California Indigenous peoples by photographer, Tom Gugler, In a Good Way: What Does Your Land Mean to You? was assembled with advisory direction from Louie Robles Jr., from the Acjachemen Nation and the Gathering of Elders Advisory Committee.
Laurie Steelink is an artist, curator, and musician. Born in Phoenix, Arizona, and raised in Tucson, she received a BFA from the San Francisco Art Institute, and an MFA from Mason Gross School of the Arts, Rutgers University. She served as archivist for the Gilbert and Lila Silverman Fluxus Collection in New York, and was director of Track 16 Gallery in Santa Monica and Culver City. In 2012, Steelink founded Cornelius Projects, an exhibition space in San Pedro that she named after her father. The curatorial focus at Cornelius Projects is primarily the cultural history and the artists of San Pedro, the Harbor Area, Long Beach, and the South Bay.
Opening reception: Saturday, October 13th, noon to 3:00pm.