Bridging San Pedro: Visual Literacy as Community Practice
A contemporary art exhibition exploring the relationships between the San Pedro community and the land and sea, engaging in communal and participatory language and making. Artists and community members come together to honor the past, articulate the complexities of the present, and forge a visually robust path toward the future by engaging in communal, participatory language and making that bridges San Pedro.
Works by
June Edmonds, Cole James, Blue McRight, and Alexis Slickelman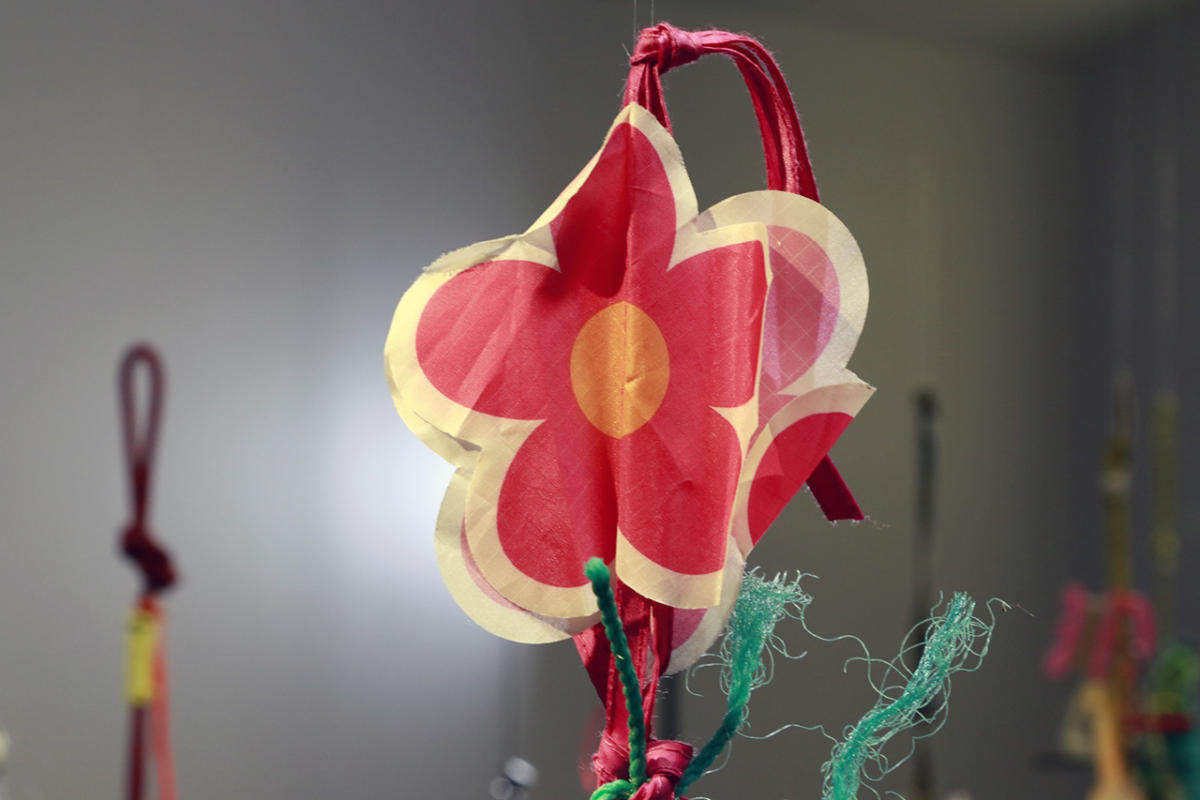 Bridging San Pedro is a communal exploration of place and life in San Pedro. It examines the values, cultures, topography and especially the aesthetics that comprise the city that merges from many into one. June Edmonds, Cole M James, Blue McRight and Alexis Slickelman use diverse materials to tell San Pedro stories: of navigation and language, of history and identity, the natural and manmade aspects of the sea and the convergence of ideas and elements into landscape.  
This special project removes the boundaries between artists and communities and invites collaboration, storytelling and art making that creates opportunities for a deeper engagement with and in visual literacy. In Bridging San Pedro each artist shares with workshop participants her recognized aesthetic prowess and her cultural awareness of how visual narratives speak to and for communities. The passion these artists have for communicating local histories, rituals and how the ocean informs life in a waterfront city is multiplied when made available for the public to activate, adding to these visual languages with their own making. 
June Edmonds, a City of Los Angeles (COLA) Art Fellow, creates color rich flags that speak to a diverse nation built on identity and often conflict. In Bridging San Pedro, she uses her practice to highlight navigational maritime flags that communicate vital information, and invites participants to consider the possibilities of how people can use this succinct language to telegraph ideas, identities and imagery without words.  
Another COLA Fellow, Blue McRight builds sublime objects from remnants of discarded and found things. She is particularly focused on water and the precarious relationship humans have with this vital resource. In this exhibition, she presents the fathom — a measurement of depth to give visual illustration to the perils of rising sea levels caused by climate change, and made more visceral with the contributions of her many community collaborators. 
Otis College of the Arts professor Cole M James has a practice that studies the intersections of magic and meaning. James' interests lie in the ritualization of knowledge, objects and history. For this project, James asked community members to enshrine pieces from their own families with other totems that together comprise the metaphorical fabric of place.  
Alexis Slickelman is an emerging ceramic artist with purist's pursuit of material exploration. Here, she emphasizes the intersections of land and sea that make San Pedro a topographically and socially unique space. She also references labor and the historically collaborative nature of quilting together an aesthetic and culturally specific object.   
Bridging San Pedro promotes a space of shared making, joy and meaning that represents the power of community engagement with the arts and is the culmination of many ideas and makers: recognized and celebrated artists and people interested in contributing to the visual literacy of their city. Works by artists and workshop participants are displayed side by side in a setting that recalls the marine layer at dusk, reminding the viewer that Angel's Gate and San Pedro are constructed and sustained at the intersections of the elements, time and memory.  
Artists June Edmonds, Cole James, Blue McRight, and Alexis Slickelman will exhibit works that intersect along themes that bridge the port and communities of San Pedro. Collaborative works, resulting from the artists' community workshops held at AGCC this fall, will be an integral part of the exhibition.
jill moniz, established curator in various Los Angeles spaces, curated the exhibition and corresponding workshops to fully engage the local community in a project that explores diverse themes that bridge San Pedro.
Presentations starting at 1pm in the gallery about the impact of plastic on our oceans will be given by the Surfrider Foundation and Captain Charles Moore of the Alguita, ocean research vessel. South Bay community members Captain Charles Moore, Surfrider Foundation South Bay Chapter, and the Glove Boat collected and donated salvaged ocean refuse for use in McRight's workshops about the projected sea level rise and oceanic plastic. Art works incorporating the salvaged materials will be on display.
This project is supported, in part, by the Port of Los Angeles through the Community Investment Grant Program.
Exhibition Image Gallery
Click the image for details on each piece.