Three connected painting exhibitions exploring the relationship between interior and exterior landscapes, personal and political mythologies, featuring artists Carlos Arredondo, Cristina Mariotta, Michelle Antonisse, and Sarah Faith Gottensdiener.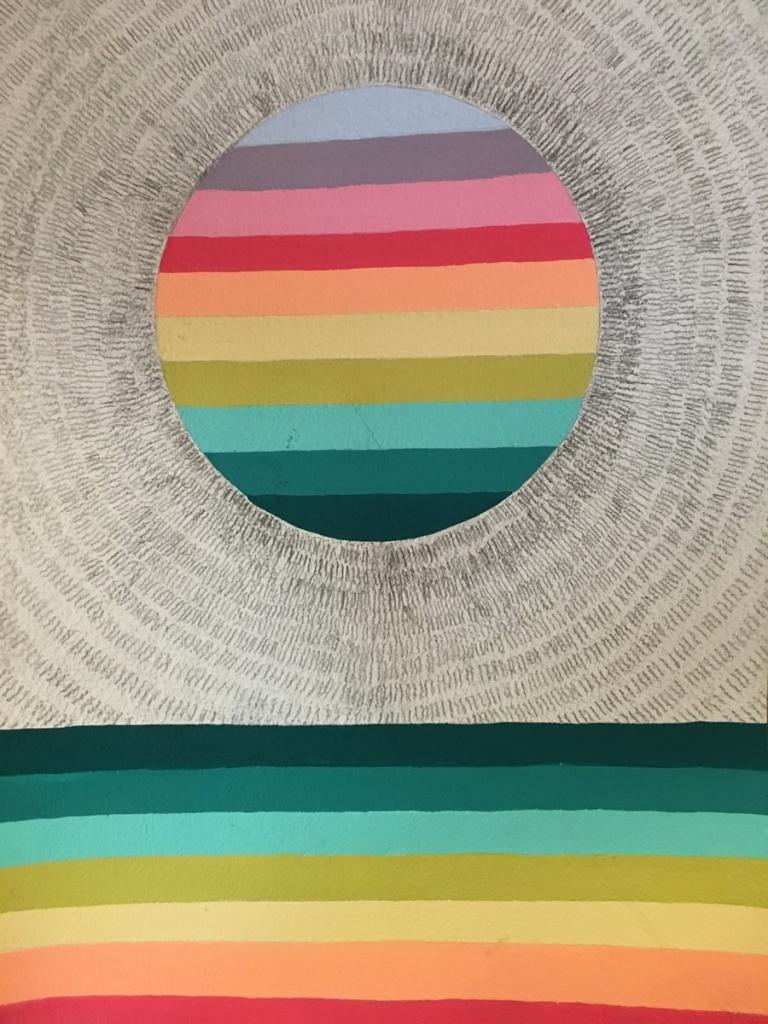 The Opening Reception for Archetypal Insides, a new exhibition, will take place on Saturday, March 11, 2017 from 1:00 to 4:00pm.
Angels Gate Cultural Center (AGCC) is pleased to present three new connected painting exhibitions, Archetypal Insides, opening in our downstairs galleries. The exhibitions are connected through an exploration of painting, the relationship between interior and exterior landscapes, and personal and political mythologies. The three exhibitions each have a subtitle and unique logic and narrative; but when presented together create a dynamic dialog about the myth of the artist and artist as myth-maker.
As part of AGCC's initiative to partner with local non-profits, Brilliant Rhythms is a collaboration with Able ARTS Work and their resident curator Jason Triefenbach featuring Carlos Arredondo and Cristina Mariotta. The primary vision of Able ARTS Work is to provide lifelong learning, community service and vocational opportunities through the creative arts for people with disabilities of all ages in an environment of warmth, encouragement and inclusion. Carlos Arredondo creates vibrant abstract paintings that reference the rhythms of his interior life. Arredondo expresses his abiding connection with the ocean and the fanciful creatures he imagines inhabiting it.  His works achieve a tonal and geometric balance inspired by his unique insights into the natural world as well as art-historical movements such as Cubism and Pop Art. He lives and works in Los Angeles. Cristina Mariotta is interested in the representation of a natural metamorphosis.  Cristina's style has transcended from the innocence of adolescent interest represented by simple linear drawings executed rapidly with flat concentrations of color, to intuitive applications of shape and form, often resulting in complex dissections of space and content.  She lives and works in Long Beach.  As Triefenbach writes, "Exhibiting their paintings at Angels Gate Cultural Center affirms Maria and Carlos as dynamic creators worthy of inclusion alongside their peers in the greater Los Angeles art world.  Able Arts Work is proud to help our resident artists show their work in this context- as working contemporary artists contributing to the vibrancy of our city."
In Taupe Trope Cerulean , Michelle Antonisse continues her exploration of narrative and California landscapes. Her depictions of landscapes draw on the language of movie posters, and pulp novel covers, illustrating as she writes, "the seductive melodramas of natural history." The installation includes a new image that looks at the landscape surrounding AGCC through this lens. The image will be surrounded of and representing nature, including original sculptures and personal ephemera collected by the artist. In conversation, these elements speak to the different but intersecting challenges of personal and collective traumas simultaneous to awe and enchantment. She received a BA from Bard College, and also attended the Gerrit Rietveld Academie for conceptual art in Amsterdam.  She has worked in this capacity in China, Honduras, the Red Hook Brooklyn Housing Projects and currently at Los Angeles' Museum of Contemporary Art (MOCA).
Sarah Faith Gottensdiener will present Mother's Myths, a series of paintings exploring the lasting legacy of Judeo-Christian Roman Myths on the collective psyche. Through her process, she gives new breathe to archaic archetypes of woman as a powerful force to be controlled or feared. Gottensdiener draws on aesthetic influences ranging from Medieval Art, ancient Sephardic papercuts and tumblr/internet culture. As she writes, "Are we just going over the same tropes in our minds? Where can reside schisms of liberation? What do the openings look and feel like? How can there be a way out?" Sarah Faith Gottesdiener is a designer, artist, writer, and curator living in Los Angeles. Her work explores feminist and queer issues. She teaches workshops on metaphysical topics all around North America, and writes the instant cult classic Many Moons Workbook.
Gottesdiener got her BA from Smith College, her MFA from CalArts Graphic Design, has taught as an adjunct professor of media and design at Scripps College, Otis, and FIDM. She has done residencies at Little Paper Planes and Have Company. With her co-collaborator Nicole Killian, Gottesdiener edits and designs Issues, an annual publication/platform for women, queer, and trans identified artists, designers and writers.
Archetypal Insides runs through April 9, 2017.
Exhibition Image Gallery
Click the image for details on each piece.