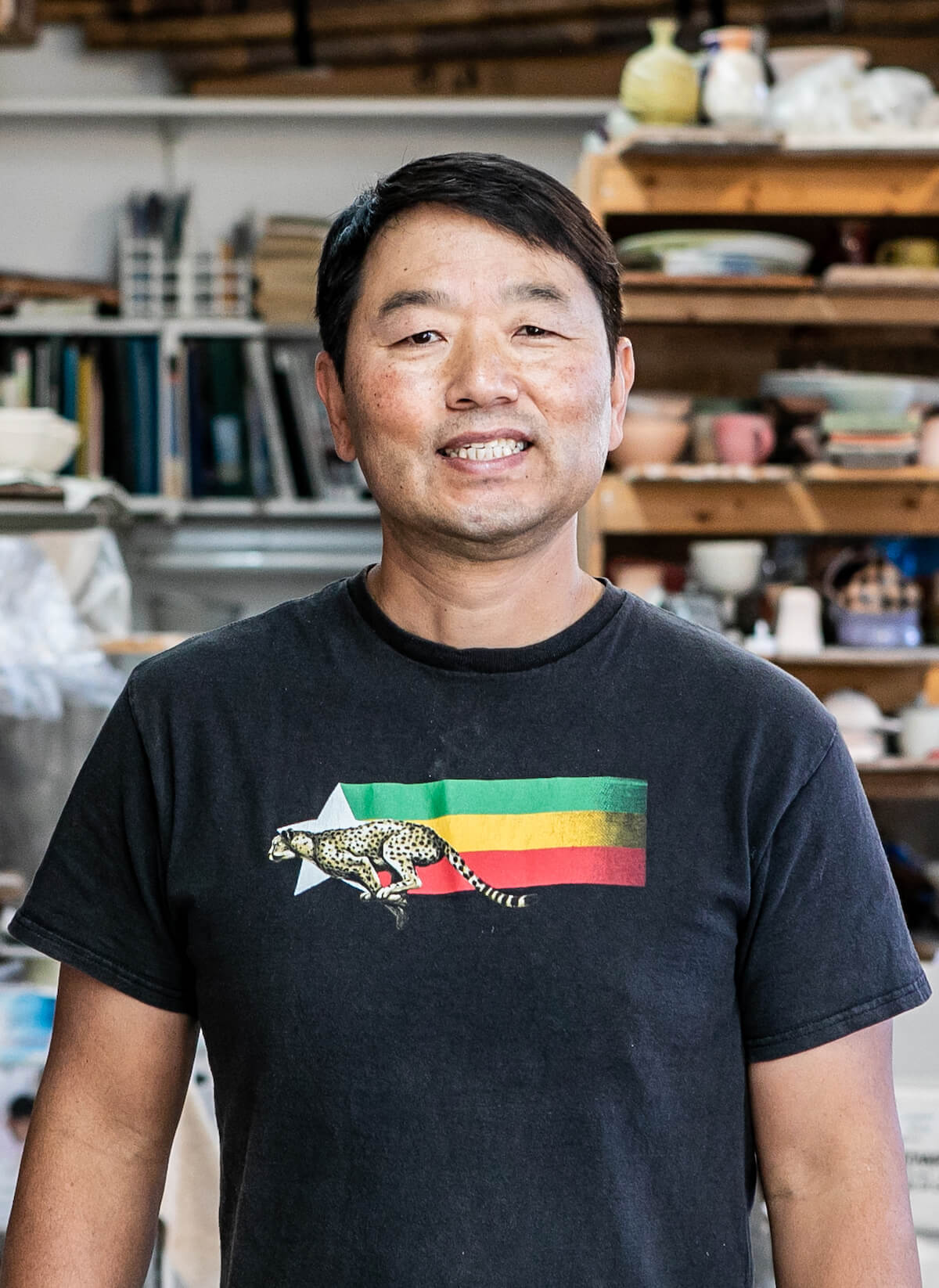 The Love of working with clay, Roy's is known for working with Porcelain as well as other clays in his studio. His pieces are all high fired to cone 10 (about 2280F). He is fascinated by the material from start to finish. It starts being an almost rock formation that's ground down, pliable material that can be made to look like metal, wood, leather, glass, and etc. It's enjoyable for him for the challenge expression he inspires to show the quality of different clays. The historical ancient ceramic forms seen still today is beyond his wild imagination.
Roy remembers now that he is becoming a middle aged artist, his grandmother whose more than 100 years old was and is the biggest influence for his works. She was a master Ikebana ( Japanese flower arrangement) artist, which she was a Ikebana teacher, with many ceramic vessels for her art works. Roy still remembers the forms, colors and textures of the vessels his grandmother had stacked up in the hallway in his youth. He was not aware of this until recently.
Using different techniques of making ceramic art, which consist of wheel-thrown Porcelain vessels to sculptural hand-built techniques which are vessels combined shows his skill level. Roy's pieces are created for the love of nature and the life forms around us. The forms and designs he creates consist of beauty, history, and its character in each of his pieces that Roy hopes viewers are reminded of.
His Japanese back ground shows in his vases that have images using Sumi brush. They are images combined from Japan where he was born and other parts of world. Other series started looking at all object form. The Geo series, Boulder series, Ocean series, and Animal series are all important for his works to express his inspirations.
He teaches ceramics classes about 100 students per week. His classes are Mondays through Saturdays, making his own work between teaching classes. He teaches at Palos Verdes Art Center and at his San Pedro and Torrance studio. Teaching keeps Roy open to many possibilities and inspirations and his students are also in his creative energy. Learning from his students contributes for him to keep him be on the edge.
Yuichiro Roy Kunisaki Image Gallery