Elizabeth Casuga is a contemporary visual artist who has used painting and video as modes of expression to explore her affinity for Science and Art.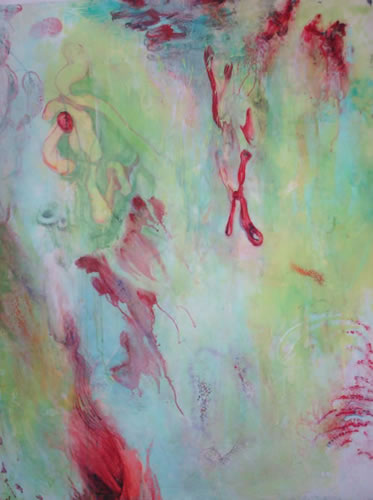 Elizabeth Casuga uses her background in scientific research as a point of departure for her artistic explorations in "Scientific Abstraction."
"Open-ended" visuals create a simulacrum of microscopic "internal-scapes," while at the same time suggests an interconnection to cosmological galaxies, geological topographies, space-time dimensions or subatomic particles.
Her goal is to seduce the viewer with luminous layered works that plays with the viewer's perception like a dimensional Rorschach test. Thus, yielding variable possibilities in meaning, as they wander through the painting as an operation of their own psychological transmigration.
Elizabeth holds a BS in Psycho-Biology (UCLA), and a BFA & MFA in Art (CSU Long Beach). She worked in Pathology & Transplant Research at UCLA as a Staff Research Associate.
She has exhibited in galleries and museums in California, Montana, Wisconsin and abroad.
Some California venues: Laguna Art Museum (Henry Hopkins, juror); Patricia Correia Gallery, Bergamot Station, Sta. Monica (Michael Darling, curator); Irvine Fine Arts Center (Christopher Miles, juror); CSU Long Beach Gallery (Peter Frank, juror); Holter Museum of Art, Montana (award, Peter Plagens – Art Critic, Newsweek Magazine); Nicolet College Gallery, Rhinelander, Wisconsin (award, Christopher Brown, Bay Area Figurative artist, Northern National Art Competition); 100 Artists, (video installation, paintings), Sta. Ana, CA; Terranea Resort collection, Palos Verdes, CA; Art Auction XIII, Long Beach Museum of Art (Michael Stearns, curator); Foreign venues: Nagoya International Center, Nagoya, Japan.
Contact: Elizabeth Casuga
Email: escpee3@aol.com
Elizabeth Casuga Image Gallery